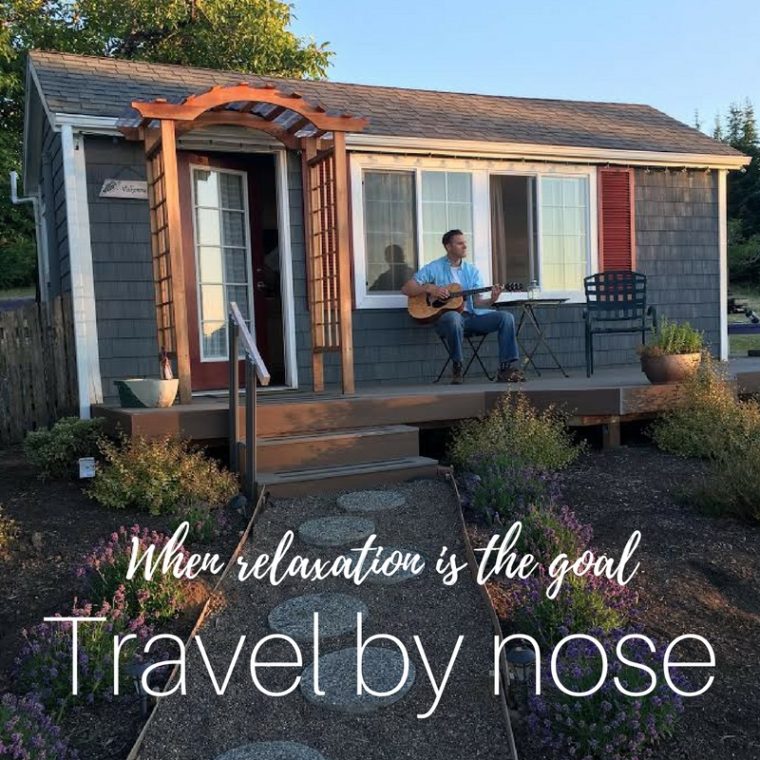 Traveling as a lifestyle habit and professional reason of existing is one thing. Truly relaxing is another entirely. I usually don't relax while I travel. I am fully engaged, feeling ALL the things, trying to find the way in and the transformation that can happen through a change of perspective. So when I want to relax, I start not with what I'd like to see, but what I'd like to SMELL.
So what does a travel writer do to relax?  For me, to calm the mind and spirit, I look for the places that get me through the nose.
Through the nose?
Yes, the nose. The answer came to me when I took a mini vacation a while back with my husband to a Tiny House Airbnb on a lavender farm not one hour from our house. The place was called "Harold's Stuga" after the owner's Scandanavian relative.
The tiny house itself has much to recommend it: Clean, perfectly situated furniture (not too much, not too little), location on a lavender and aquaponics farm, fields of lavender, charming hosts who brought eggs in the morning from the chickens, views all the way to Mt. Hood, crisp summer nights.
But something else slayed me entirely.
It was the smell. Not just of the nearby fields, all in bloom, where scores of varieties attract the buzzing of bees, plein air painters and weekend bud gatherers.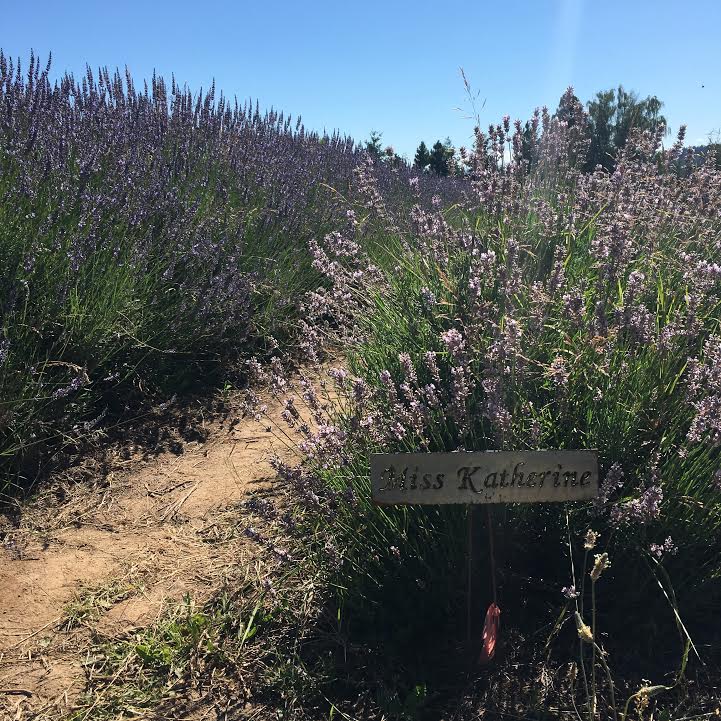 The tiny home itself had been cleaned with lavender water — a byproduct of the process of lavender distillation. It felt like it was seeping out of the wood, all warm and herbaceous. I can think of no other representation of bliss: Having just enough, smelling like I just rolled in lavender.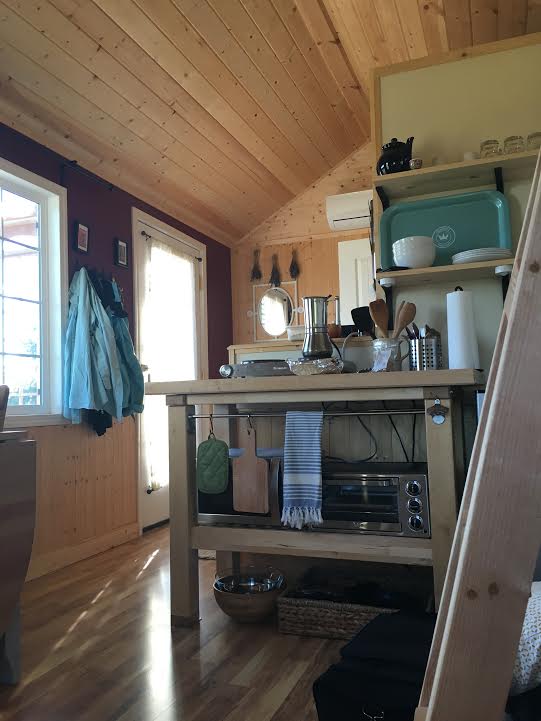 We were there for two nights and one fully Saturday. I napped twice.
TWICE!
I can't remember the last time it was okay for my body to even nap once. And I've never had a more restful short vacation.
So where are the places to truly relax? That might be the wrong question. The right question might be where are the places that smell like relaxation?
If you want to travel by nose, here are a few scents that inspire relaxing, transformational travel:
TRAVELS BY NOSE: Where to start
Lavender. Oregon, Texas, New Mexico, the south of France: All of these places are ground zero for lavender production and quite possibly the best places in the world to relax simply by breathing.
Pine. The Japanese don't call it Forest Bathing for nothing. We travel regularly to the Ponderosa pine forests of Central Oregon because the warm scent of pine relaxes my family instantly.
Rose. Valued the world around, rose is an easy choice. Chase roses and you are chasing not just romance but sensuality. Any time you are focused on how your body feels — and not just your monkey mind — you will relax. Portland's International Rose Test Garden? The Princess Grace Rose Garden? The Elizabeth Park Rose Garden? Options abound.
Chamomile.When you're sick it best come to you, but if you've got a travel bug, Greece is where to go. What about a farm stay in Greece where you can clip chamomile, revered by insomniacs for centuries?
Vanilla. I tend to think of Madagascar when I hear vanilla, and yes, you can visit the Vanilla Coast. But really, you could plan a whole trip around visiting the bakeries of Paris to steep yourself in the bean pod of bakers.
The best thing about traveling by nose is you can absolutely take it with you. You might night be able to conjure up the specific scent of lavender mixed with Alpaca fur, hydroponics and a popping friend egg, but you can come close! After you get home you can just pop some oil in a diffuser and access that feeling anytime!
You don't need to travel to me. I'll come to you! I write this monthly newsletter with articles about creative wayfinding, travel and how to be at home in the world. You can sign up below.