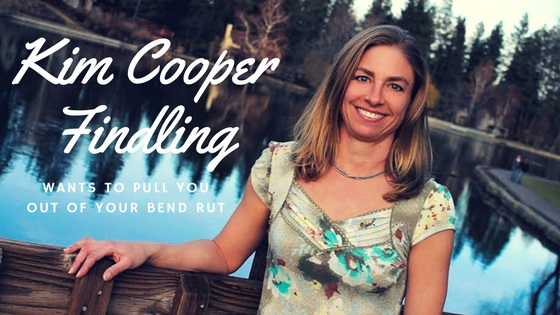 You've been to Bend, yadda yadda, you've done the things. Well, sort of. Maybe you keep going back to Lava Lands every year (I know I do), or your annual pilgrimage to Todd Lake feels like a homecoming you've been there so much. That's all fine and good, but you haven't tapped out of the possibilities.
Bend might be the best place in Oregon to park yourself for day-tripping adventure. Bend didn't create the day trip, but it has certainly launched it into the stratosphere.
That's why I'm super excited to tell you about my friend Kim Cooper Findling's new book: Bend, Oregon Daycations: Day Trips for Curious Families
.
I talked to Kim about why this book was necessary and, perhaps the most important question in the history of Bend, what foods pair best with what places.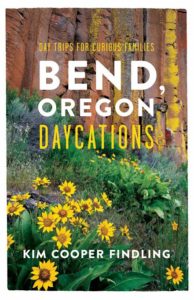 Why this book and why now?
This book has been in my head for a while. I have lived in Central Oregon for 23 years, raising my kids and my writing career along the way by exploring the beautiful region and sharing those experiences with others in words. As Bend and surrounds have grown more and more popular with visitors, I felt it was a great time to share a narrative, day trip travel book with them.
What kind of guide do you want to be for people to Central Oregon? Do you have certain goals for yourself as a travel writer? 
My hope is to share wonderful places with families and encourage them to get out there and enjoy the region without worry of gear, fear or monumental skill. Bend can be very adventure-outdoors oriented, but there are so many ways to enjoy the region without including extreme sports or even a tough hike. These chapters make exploring Central Oregon accessible and easy—take the kids, take the grandparents, no worries. The book is full of personal stories of my family and me exploring Oregon, and I hope it encourages others to create their own personal experiences and memories in a similar way.
Are there places you want to keep to yourself?
It's the travel-writer's quandary, right? I've been in Oregon my whole life, and there's always been an element of "don't share it" in the wind here, even when the population and visitation numbers were much smaller. I suppose the answer to your question is yes, there are places I'd like to keep to myself. But at this point, Oregon is wholly discovered, and my approach as a travel writer is to be informative, inspirational and welcoming.
What do people not understand about Bend/Central Oregon?
Bend is interesting because it's grown so much but is still relatively remote. That means that you can base camp in Bend and find wonderful places to stay and eat and be entertained, but that in all directions from town are open spaces full of adventure and natural wonder to explore. You can enjoy mountains, lakes, rivers, waterfalls, deserts and forests all in a 100-mile radius. However, I believe many people don't know where to begin or feel comfortable setting forth, which is why I wrote this book.
Travel writers can get jaded. What's the place that floors you every time?
The desert. Oregon's high desert is austere and unpopulated with amazing wide-open skies. It never fails to shake off the city and open me up and bring me peace.
If visitors only have a weekend and can take one of the day trips, which one would you suggest?
Camp Sherman or Newberry Crater. Both are relatively close to Bend, completely different from each other, but with diverse and wonderful payoff.
You seem to do a lot of pairing with outdoor places. Newberry and tacos, Sunriver and ice cream. What's your favorite food/place pairing in Bend?
What a great question! I'm a cold beer by the river girl. Give me an IPA and a view of the Deschutes and I'm happy. Is beer a food? In Bend, it sure seems to be.
Click here to get Bend, Oregon Daycations: Day Trips for Curious Families. Do you want ME to travel to YOU? I write a newsletter collecting these posts. You can sign up in the upper right sidebar.